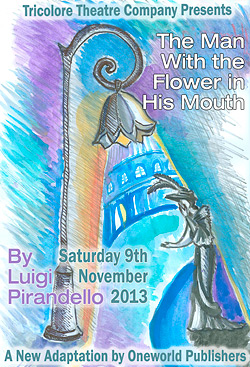 The Man with the Flower in His Mouth

This short, but riveting and incredibly important work by the Italian dramatist has been performed many times. It was also made into a film on several occasions in it's native Italy and in Britain. In fact, it was a first ever drama adaptation produced by the BBC in 1930.

The play earned its popularity not only due to the fame and talent of the author, but also because of the themes it touches upon; life and death, love and loyalty, human need for kinship and understanding. The piece was written in the early twenties, when the world hung in a fragile, illusive stillness between two horrendous wars. Death has suddenly become a daily occurance, seen and encounted by everyone. That has urged writers and artists on the whole to seek it's new, less threatening interpretation that would made the phenomenon of death seem less disturbing and, to a degree, more acceptable. As a result many works like "Man With the Flower in His Mouth" and Cocteau's "Orpheus" were created. They offered a more poetic, almost "beutified" image of death and conjured up an entirely new type of symbolism that could only emerge in the brutal conditions of the twentieth century.
In many ways "Man With the Flower in His Mouth" is an ideal example of that harrowingly beautiful style of writing.
The cast: Phil Gerrard; Terry Germyn & Nadia Ostacchini
Written by Luigi Pirandello
Directed by Dimitry Devdariani
Performed as part of the Pirandello Conference in London in November 2013